Hi allemaal!
Vandaag, op kerstavond, hebben wij voor jullie de tweede look van het Vintage Romance palette. We zijn wederom voor een iets heftigere- en een natuurlijke look gegaan. Voor ieder wat wils dus! Klik maar snel verder
Om het geheugen op te frissen hieronder weer een foto van de kleuren die in het palette zitten.
Bovenste rij vlnr:
Pretty in Paris - shimmer zilveren kleur
Meet in Madrid - shimmer gouden kleur
Court in Cannes - shimmer koper kleur
Lust in LA - shimmer olijf groen
Romance in Rome - donkere grijsblauwe kleur
Propose in Prague - matte roodbruine kleur

Onderste rij vlnr:
A vow in Venice - shimmer paarsbruin
Marry in Monte Carlo - shimmer bordeaux kleur
Honeymoon in Hollywood - shimmer aubergine kleur
Bliss in Barcelona - shimmer donkerpaarse kleur
Forever in Florence - donker paarse kleur met zilveren glitters
Love in London - zwarte kleur met zilveren glitters
Sherr
We beginnen met de look van Sherr. Zij is voor een iets heftigere look gegaan. Zij heeft zich tot nog toe niet aan de paarse kleuren gewaagd, maar ging vandaag voor een donkere look met blauw. Dit gecombineerd met lekker veel highlighter op het gezicht, het is tenslotte kerst! Een zachtroze kleur op de lippen en je bent good to go!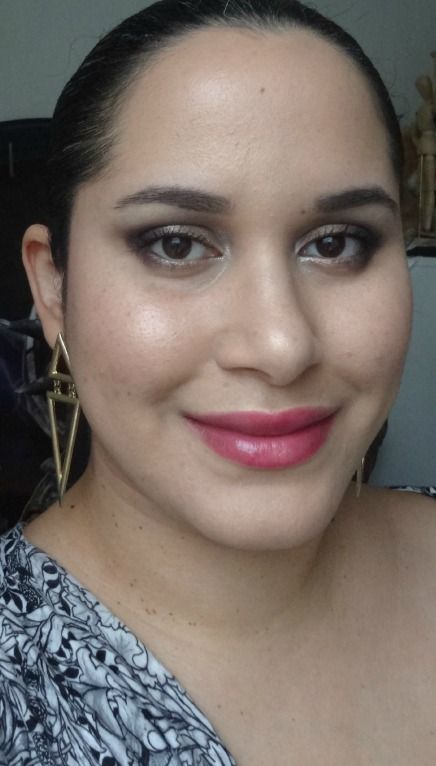 Om deze look te creëren heeft zij
Pretty in Paris gebruikt als highlight in de binnenste ooghoek
Lust in LA op het bewegend ooglid gedept en op het eerste gedeelte van het onderste ooglid
Romance in Rome op het buitenste gedeelte van het ooglid in V vorm in de arcadeboog geblend
Propose in Prague hierbij als overgangskleur gebruikt om Propose in Prague een beetje naar boven te blenden
Love in London
gebruikt in de Outer V om het meer definitie te geven en doorgetrokken naar het onderste ooglid
Voor de rest van de look heeft zij gebruik gemaakt van:
Essence Longlasting Eye Pencil
01 Black Fever
om te tightlinen
Benefit Fake Up 02 Medium
NYX Mocha blush
Etude House BB Cream Honey Beige W24
Essence All about matt compact powder
Chanel Le Volume noir
NARS Albatross
L'oreal Color Whisper 50 Cherry on Top
Xan
En dan nu de look van Xan. Zij is gegaan voor een natuurlijke ooglook. Een heftige ooglook is natuurlijk niet iedereens smaak. Zij heeft dit gecombineerd met een roze kleur om de look wat meer leven te geven. Dat wij houden van net dat beetje meer is wel duidelijk!
Deze look is tot stand gekomen door
Court in Cannes in de binnenste ooghoek
Lust in LA op het bewegend ooglid en ook in de buitenste ooghoek
Propose in Prague in de crease
Wat zij verder op haar gezicht heeft is
Too Faced: Shadow Insurance
Maybelline Color Tattoo: Infinite white
Benefit Mascara: They're Real!
Be a Bombshell eyeliner: Onyx
MAC Studio Fix: NW 46
Sleek blush by 3: Pinktini
Rimmel Apocalips: Apocaliptic
Wij hopen dat jullie deze looks leuk vinden en dat jullie een fijne kerstavond hebben.
En alvast Fijne kerstdagen en tot vrijdag.
XOXO!
Xan en Sherr